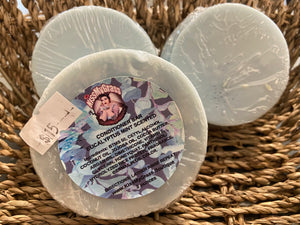 Kiss My Grass Soapery
Conditioner Bar Eucalyptus Mint
Regular price
$15.00
$0.00
This is the matching Conditioner Bar to our Eucalyptus Mint Shampoo Bar. Its scented in eucalyptus mint with a touch of vanilla to give it the perfect fragrance for shampoo & conditioner bars. Its Amy's new favorite! Try it out for yourself! 
Our Conditioner Bars are great for those who are environmentally conscience and want to reduce the amount of plastic waste that they create, without sacrificing product quality. Ours are packed with luxury oils and butters! This bar is scented in sweet and fresh smelling Eye Candy. Check out the matching Shampoo Bar. 3 ounces 
Ingredients: BTMS 50, Cetyl Alcohol, Coconut Oil, Jojoba Oil, Cocoa Butter, Argan Oil, Dimethicone, Vitamin E, Glycerin, Honeyquat, Panthenol, Hydrolyzed Rice Protein, Fragrance, Germaben Plus, Color.