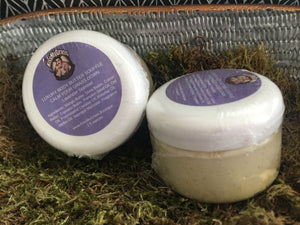 Kiss My Grass Soapery
Body Butter Calm Your Grass Down (Lavender)
Regular price
$20.00
$0.00
Indulge in our super thick luxury whipped Body Butter scented in Calm Your Grass Down (Lavender Essential Oil). Treat your winter skin to just what it needs to combat the dry weather itchies. This formula is also great for cuticles.
Traveling with this product is perfect, its compact, with a screw on lid, and not liquid so no spilling mess, and nothing to worry about with checking into the airports. 
We use luxury oils and butters just for YOU. 
Ingredients: Mango Butter, Shea Butter, Cocoa Butter, Cupuacu Butter, Pumpkin Seed Oil, Oat Oil, Fractionated Coconut Oil, Rosehip Oil, Jojoba Oil, Isopropyl Myristate, Fragrance. 3 ounces 
---
More from this collection